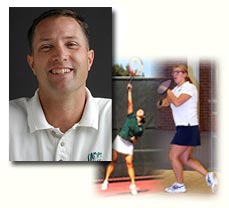 Chip Fishback
Head Coach William Smith Squash and Tennis
Now entering his ninth season as head coach of the tennis team, Chip Fishback has led William Smith to eight consecutive winning seasons, sporting a career record of 94-50.
Last season, the Herons finished the campaign with a 14-5 record, matching the record for wins in a single-season for the third time in the past four years. William Smith placed fourth at the Liberty League Championships and sixth at the NYSWCAA Championships.
A tremendous motivator and recruiter, Fishback has mentored one ITA National Rookie of the Year, eight All-State selections, five All-Liberty League picks, and four Intercollegiate Tennis Association All-Academic Team honorees. In addition, Chelsea Rauck '09 was named the Liberty League Player and Rookie of the Year in 2006.
Fishback, who also coaches the Heron squash team, came to William Smith after five years as an assistant coach at the University of North Carolina. Before turning to coaching full time, he taught history and mathematics at Brookings (S.D.) High School, while also coaching tennis, gymnastics and football.
Fishback is a 1984 graduate of Davidson College, where he played tennis, baseball and football for the Wildcats. In 1992, he earned a master's degree in teaching from North Carolina.