Bodine signs with ECHLís Augusta Lynx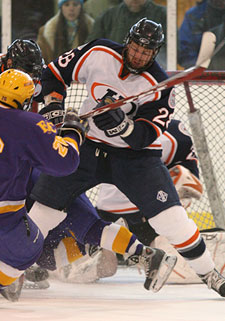 Defenseman Will Bodine '06 signed with
the Augusta Lynx.
(Photo by Kevin Colton)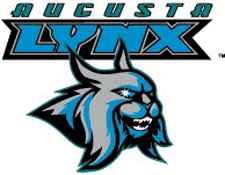 March 22, 2006
GENEVA, N.Y.—Every athlete at some point in his or her life dreams of playing professionally. Most of us realize at a very early age that the fame and fortune of a pro athlete are far out of our reach. Then there are those like Hobart College senior Will Bodine, who actually make those dreams come true.

The North Massapequa native signed with the Augusta (Ga.) Lynx of the East Coast Hockey League on March 20. Bodine, who wasn't supposed to play in his first game until Tuesday, got a call from the Lynx asking him to move his debut up to Monday.

So after packing up his things Sunday night, Bodine drove the 12 hours from Geneva to Charlotte on Monday and then played his first professional hockey game. Less than 48 hours after helping the Statesmen to their most successful season ever, the defenseman pulled on his Lynx sweater.

In two games as a pro, Bodine has already tasted the thrill of victory and the agony of defeat, as well as spending a little down time in the penalty box.

During his debut, Bodine earned an assist on the Lynx first goal in a 6-3 win. He also collected seven penalty minutes after a third period dust up with one of the Checkers.

The Checkers play in Charlotte Bobcats Arena, which also hosts the city's NBA team. Bodine found himself in awe of the cavernous arena after four seasons in Hobart's 500-seat Cooler. Awestruck became thunderstruck when he took his first hit from 6-foot-7, 275-pound Peter Worrell, a veteran of seven NHL seasons who once led the league in penalty minutes as a Florida Panther.

"I stood my ground," Bodine recalled in a phone interview. "He didn't knock me down, but it kind of settled me down and brought my focus back to the game."

Bodine was also reminded (in a rather rude fashion) of a distinct difference between the college game and the pros, protect your face. While college players are required to wear a full facemask, pros merely wear a visor that provides limited eye protection. On one of Bodine's first faceoffs he caught a puck to the face that split his lip open.

"It's going to be a lot more demanding, physically. We play five games in my first week here, but I love it. It's what I've always dreamed of doing."

Bodine played in 84 career games for Hobart, recording 18 goals and 27 assists. He and his classmates will graduate from Hobart as the all-time leaders in wins and winning percentage, recording a 63-32-11 mark (.646).

And he will graduate. Bodine will telecommute to finish his class work this semester and earn his degree in economics on time this May.